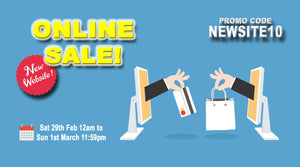 NEW WEBSITE ONLINE SALE
🔥 

Brace yourselves, because what was already cheap
it is going to be even cheaper! 

🔥
🚨 From Saturday 29th February 12:00am to Sunday 1st March 11:59pm
Enter discount code NEWSITE10 on checkout to get a further 10% OFF on our already discounted prices*!
👉 How to get your discount:
Navigate on our online store to find the best scuba brands with the best deals!
Add you selected products to the cart
Go to the Cart Page(click on cart icon on top right corner) and proceed to Check Out
TypeNEWSITE10 on the Discount Code box
Voila!A Further 10%OFF on diving, spearfishing and freediving gear was added to your shop!
*Sale Excludes Courses and Gear packages.
Happy diving from the Frog Dive Team!
---