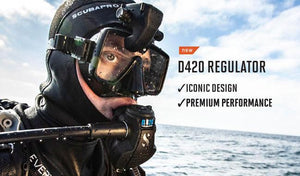 NEW Scubapro MK25 D420 Regulator
❗️ NEW Scubapro MK25 D420 Regulator
The amazing performance that you already know from the MK25 first stage, now paired with the NEW D420 second stage!
🔥 D420 Second Stage:
✔️ Uniquely shaped casing:  with D-Series heritage and the latest advances in breathing performance technology
✔️ Air-balanced Progressive Flow Control Valve is able to deliver abundant airflow with a natural smoothness comparable to breathing on the surface.
✔️ Dive/pre-dive system with a switch on the top of the case
✔️ Diaphragm located in the lower section of the casing: making breathing even easier due to the pressure gradient in the upright position
✔️ Left- or right-side LP hose configuration
✔️ Large purge button: easy to use even with gloves
✔️ Compact exhaust tee: deflects bubbles from the diver's view and easier exhalation
✔️ Super-flow hose: oversized bore that allows more air to flow on each inhalation
✔️ Hi-Flow mouthpiece: for improved airflow and comfort
✔️ Diving in all conditions, including extreme cold water!
🔥 Mk 25 First Stage:
✔️ Air balanced flow-through piston design delivers consistent and effortless airflow, regardless of depth, tank pressure, or breathing rate
✔️ Patented XTIS (Extended Thermal Insulating System) fully insulates the inner mechanism from the environment, improving cold-water resistance by 30% and delaying ice formation in extreme cold-water conditions without compromising breathing performance
✔️ Anti-freeze protection radically increases breathing reliability when diving in the most extreme water temperatures
✔️ Two opposing high-pressure ports allow the first stage to be positioned either up or down.
✔️ Five high-flow and one axial super high-flow low pressure ports on a swivel turret maximise hose routing options.
✔️ External intermediate pressure adjustment enables technicians to fine-tune performance quickly and easily
RRP $1495 | FROG SPECIAL $1345
IN STOCK NOW! 
Pop in-store to have a look or go to our online shop for more HERE
---